THE ARTIST
THE ARTIST
Meet the artist, Richard Dickerman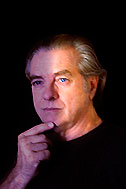 Richard was raised in a small farm town in Kansas, but soon wanted to explore the world.
At 17, Richard hitch hiked to San Francisco hoping to get a job on a merchant ship that would take him to the Orient.
Due to a maritime strike and no ships leaving port, Richard was forced to sleep on benches at the local bus station. After a few days Richard was offered a job to join a migrant crew painting water towers.
The maritime strike was still on going when the tower painting job was completed. Richard went with the crew to paint another tower on the East Coast.
When Richard turned 21, he started his own water tower and high structures painting contracting company and went on to complete projects through out the USA and Canada.
Recently in the news, was the destruction of the Port Everglades power plant and their four 355 ft. chimneys. Richard painted those chimneys when they were first built.
Richard latter became the largest industrial painting contracting company in the Caribbean with projects in Puerto Rico, Virgin Islands, Haiti and the Dominican Republic.
Richard also sand blasted and painted the world's tallest chimney which was 1,000 ft. high located in Pennsylvania.
One of the world's largest shipping companies with offices in London contacted Richard to take on the challenge of sand blasting and painting a super tanker while the ship would be in route in the high seas from France around South Africa and into the Persian Gulf.
European companies had turned down the project stating that it was technically impossible to complete the project under in the time frame and under the dangerous conditions.
In order to carry out the "at sea project", Richard had to design and build specialized equipment that did not yet exist and latter received European patents for his efforts.
After successfully completing the project, Richard received a heroes welcome upon his return to London. The word got out and requests from other shipping companies for his services started coming in. Richard then opened offices in London to manage this expanding "at sea" business and the sell of his patented equipment.
A few years latter, Richard sold his businesses in London and returned to Orlando to invest in real estate and also started a dredging company. One of his investments was a 200 acre island located near Kissimmee and Disney World.
Richard became interested in photography and photoshop when Pepsi Cola wanted to lease his island for a Cindy Crawford commercial.
After transporting Cindy Crawford, 1,000 of her guests and a satellite truck to the island, Richard ask one of her staff why Cindy did not look like her photos in the magazines. they replied that high quality photography together with photoshop works magic.
A few years latter, Richard sold his holdings in the USA and went to Latin America to learn spanish, a new culture and hone his skills of photography and photoshop.
Richard has recently established a presence in south Florida and has brought with him many of his works from South America and is producing local high quality photos and photo art.
Richard has recently produced with his high tech 80 mega pixel camera a panoramic photo of Miami that is photo quality and is 21.5 ft. wide and 5 ft. high.
Richard will be providing his services to high end interior decorators and designers and his work will be available at high end furniture stores.